Moving With Pets
Posted by David Phillips on Tuesday, May 13, 2014 at 2:11 AM
By David Phillips / May 13, 2014
Comment
This month is National Moving Month. Every May marks the official beginning of the moving season, a four-month period between Memorial Day and Labor Day when millions of families relocate. Due to more than three in five Americans (62%) having a pet and the fact that most families consider their pets to be members of the family, it's important to take the proper steps that ensure the safety and comfort of your non-human family members during any relocation (big or small).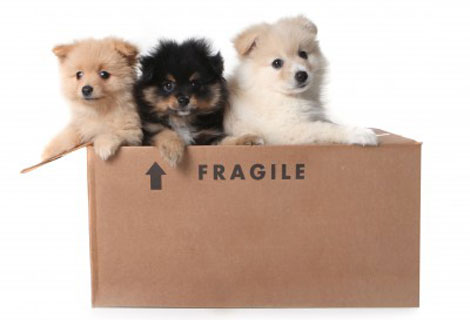 "Moving is very stressful for a family," say ASPCA President Larry Hawk, D.V.M. "That stress is also experienced by the pets. They want to know that they're part of the family and that they'll be going, too."
Unfortunately due to a variety of circumstances, that isn't always the case. Moving is actually identified as the most common of 71 reasons for relinquishing dogs and the third most common reason for relinquishing cats to shelters. However, for many people, leaving their pets behind is simply out of the question.
With proper preparation, you can ensure that your upcoming move will go not only go smoothly for you…but also for your non-human companions. Being well prepared and doing proactive research is one of the most important things you can do, as a pet owner, prior to a move. For instance, be sure to keep a photograph of your pet, in the event that your pet gets lost.
Moving to a new home can be stressful on your pets, but there are many things you can do to make the process as painless as possible. The experts at The Pet Realty Network in Naples, Fla., offer these helpful tips for...