In our last blog we wrote about why hiring a realtor is important. As we stated, there are many reasons why it makes sense but let's examine why it is necessary. Here are the top reasons why hiring a licensed agent is important: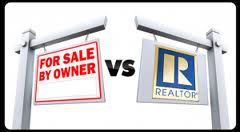 Experience & Education:
You don't need to know everything about buying and selling real estate if you hire a real estate professional who does. The trick is to find the right person that you feel comfortable with and believe can achieve your objectives. Why not hire a person with more education and experience than you who is not emotionally involved? We're all looking for more precious time in our lives, and hiring pros gives us that time. Experienced agents can save you time and money.
Agents are Buffers:
Agents take the spam out of your property showings and visits. If you're a buyer of new homes, your agent will whip out her sword and keep the builder's agents at bay, preventing them from biting or nipping at your heels. If you're a seller, your agent will filter all those phone calls that lead to nowhere from lookie loos and try to induce serious buyers to immediately write an offer.
Neighborhood Knowledge:
Agents either possess intimate knowledge or they know where to find the industry buzz about your neighborhood. They can identify comparable sales and hand these facts to you, in addition to pointing you in the direction where you can find more data on schools, crime or demographics. For example, you may know that a home down the street was on the market for $350,000, but an agent will know it had upgrades and sold at $285,000 after 65 days on...