Green Flash Brewing Co.
Exciting news took place Monday, October 13th, when San Diego based Green Flash Brewing Co. officially broke ground for the construction of their 20 million dollar facility at the northwest corner of General Booth Boulevard and Corporate Landing Parkway. The site is only a couple of miles south of Oceana Naval Air Station, home to a fleet of roaring F/A-18s and on 9 acres in the Corporate Landing Business Park. Green Flash bought the land from the Virginia Beach Development Authority for $1.35 million.
Mike Hinkley, who founded Green Flash with his wife, Lisa, originally had settled on Wilmington, a seaside city in North Carolina for the site of their second brewery, but a last-minute trip to Virginia Beach changed their minds. Green Flash initially decided against Virginia because, at the time, brew pubs were not allowed to sell pints in their tasting rooms. They reconsidered when the law changed in 2012 under previous Governor Bob McDonnell. Green Flash and others credit the law change with the monstrous growth Hampton Roads has seen.
Virginia Beach, which is Virginia's largest city, has a lot in common with San Diego. Virginia Beach has an oceanfront location, is home to a major U.S. Navy base and is a tourist magnet, drawing more than five million visitors each summer. The city is also centrally located and offers second-day freight service to two-thirds of the U.S. population, from Boston to Miami.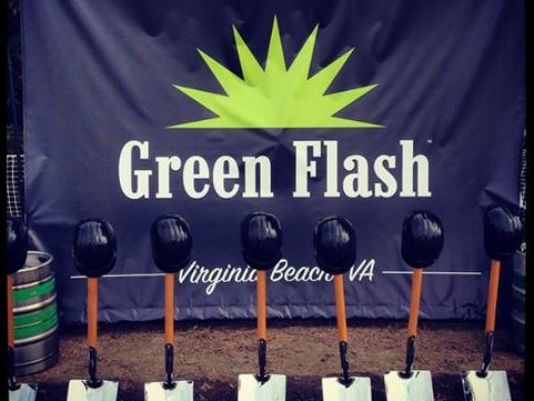 The Hinkleys wanted to build a brewery in the mid-Atlantic so they could deliver fresh beer to about two-thirds of the U.S. population. As a matter of fact, a third of Green Flash's beer is sold on the East Coast.
Currently, Green Flash...