What the duck? ;-) Have you seen the 40-foot "Rubber Duck" (a giant inflatable sculpture) that has made his long awaited debut by bobbing in The Hague Inlet as of yet? If not, you must check him out. He has already delighted thousands of visitors that have come far & wide (yes, apparently there's even group of retirees who follow the icon internationally and now here nationally.)
Norfolk is hosting the enchanting artwork to celebrate the Chrysler Museum of Art's grand re-opening; after being closed for nearly 2 years due to its expansion and renovation.
The adorable and friendly "celebrity" was designed and created by Dutch artist Florentijn Hofman. Mr. Hofman chooses the venues in which his work will appear. And this is the Rubber Duck's first U.S. exhibit since Pittsburgh last fall when he kicked off the month long Pittsburgh International Festival of Firsts which attracted more than 1 million visitors to Point State Park. The BIG duck will remain in front of the Chrysler Museum's entrance, through May 26.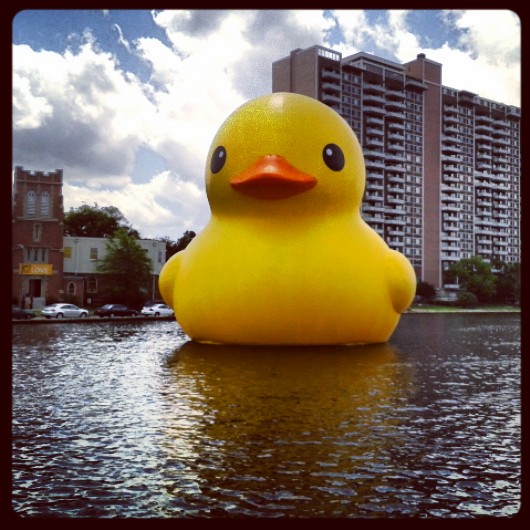 Mr. Hofman dreamed up the floating installment "Rubber Duck" back in 2001 while working on his graduate art degree. He was commissioned to build it for an exhibition in France, and went big — 85 feet. While he has scaled back his inflatable art to now 40 feet, THE "Rubber Duck" has waddled the globe while paying a visit to China, England, Japan, New Zealand, Australia and Brazil since 2007.
The Chrysler took a quick survey and estimated that approximately 2,500 pictures were taken of the world's largest bath toy during just Tuesday's lunch hour alone. I can't even imagine how many have been snapped since it floated through our harbor this past Saturday, May...