Popular Home Trends This Year
Posted by David Phillips on Thursday, May 19, 2016 at 2:18 AM
By David Phillips / May 19, 2016
Comment
Popular Home Trends This Year
Posted by NIcole Pandeloglou on Thursday, May 19th, 2016 at 8:42pm.
There are many cool Home Trends this year, so much so that I will be writing a second blog on just luxury home trends. Please stay tuned and check back soon in regards to that. If there is one word for 2016, I think it would be STYLE!
As we begin to mark the halfway point of 2016, here are some design trends that have really taken off over the last 6 months.
Now if you are anything like me, your home is always changing and evolving to keep up with your busy "on the go" lifestyle. Our living environment affects us in a multitude of fashions so it's important to create your home to integrate well with your needs.

Personally I'm always running from point A to point B that when I get home I crave simplicity. A more serene lifestyle that includes "turning off." In my opinion that's the thread that connects everything together. All the trends below seem to cater to the seamlessness of just being in your home.

COLORED STAINLESS STEEL - Black stainless steel is hot! In a Houzz poll, nearly two-thirds say they would consider the dark alternative to shiny silver metal and if dark is not your thing, no need to worry. There's also Whirlpool's Sunset Bronze finish which is perfect for folks who prefer a lighter look.

FORMAL DINING ROOMS - This isn't everyone but if you're a homeowner who entertains frequently a designated area just for special meals or hosting parties is perfect.

MISMATCHED CABINETS - Try pairing two separate styles and colors together. Keep upper cabinets white or neutral for a clean, timeless feel, then go crazy with the lower cabinets by playing with various wood tones and deeper colors. Don't be afraid to be bold and add a little color or texture to your kitchen.

MARBLE ACCENTS - As stated in Elle Decor, marble was huge at this year's NY NOW showcase. Before you scream…."Marble".... I can't afford that. Hold on to your seat. This latest trend is all about small touches of lavishness through accent pieces. You can achieve this with planters, clocks, candle holders or even something as simple as coasters.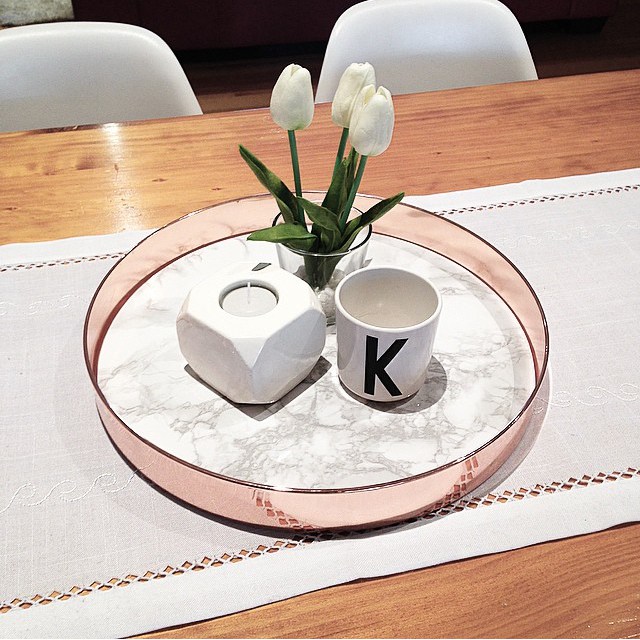 MIX MATERIALS IN KITCHENS - For this trend consider mixing several modern materials, finishes and colors. Instead of only incorporating one or two materials, homeowners are turning to a variety of opposing styles to create a truly personalized space. A prime example of this might be a rustic wood ceiling, subway tile backsplash, a vintage inspired rug, and shiny white counter-tops. Mismatching can be nerve wracking but when executed correctly, it adds immediate interest to any space. This is a trend that keeps the boring out and brings ton of character in.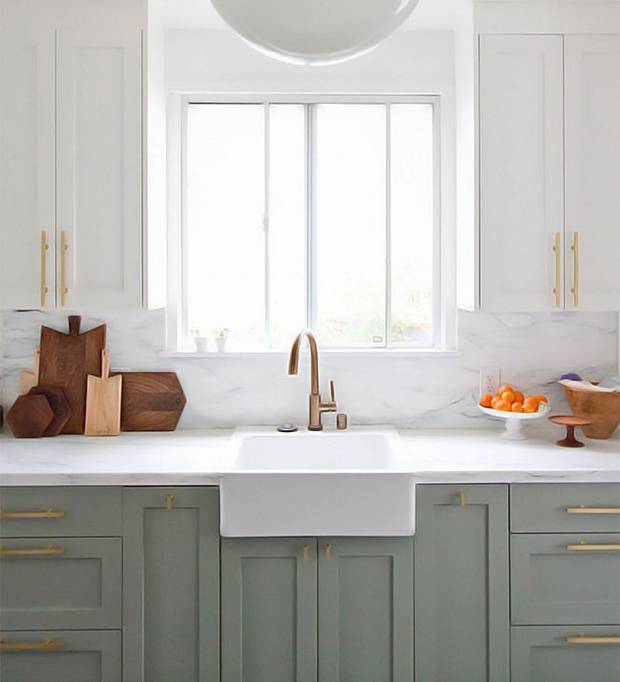 TECH-LESS LIVING ROOMS - I love this trend! According to Houzz, with so much screen time throughout the day and night, homeowners are looking for a calm respite where they can read a book, chat with friends and family or just sit quietly. This is leading to more and more living rooms void of digital "noise." Although tech-filled homes certainly aren't going anywhere, more and more families are choosing to keep their family rooms unplugged in order to facilitate more family time. The formal living room is mostly a thing of the past in many homes and people are designing their spaces to be used, where you can be with friends and family in a casual comfortable way.

FIREPLACES AND/OR FIRE FEATURES - Going with the trend above, fireplaces are making a comeback as room focal points in place of TV screens. The cool thing about this is even non-working ones are gaining in popularity which is awesome for a lot of the historic homes in Ghent. However if you don't have a real fireplace, here's how you can partake too. New advances mean you can have all the ambience without the smell, pollution or hassle of traditional wood-burning fireplaces. Instead of buying that latest smart TV, arrange your furniture so that your fireplace is now center stage.

BATHROOMS THAT FEEL LIKE LIVING SPACES - Houzz reported that 2016 is the year for less clutter in your bathroom. It's time to take your bathroom back and add in some cozy items, like plush chairs, fresh flowers, ornate chandeliers or even decorate with a contemporary wallpaper.

MATTE FINISHES - The thing about trends is that there's always something on it's way out as something new is taking it's place. Last year was about all things metallic. But now, the exact opposite texture is the latest and greatest. Designers are going for oxidized metals, matte glazes, and chalk-finish paints. So before you throw away all last year's metallic objects...matte-finished decor looks amazing next to luxe gold and copper.

PERKY PEDESTALS - Remember how I said the key word for this year is style? Well, think about all those dull corners you have and brainstorm about transforming them into attention worthy displays. Tall, perky pedestals are excellent décor pieces alone, but are also perfect to display a sculpture, plant or DIY art. Just a few splashes of color can make all the difference and many decorators have embraced tones like rose quartz and serene blue.

THE RETURN OF THE DESK - 2016 has been the year where we are using the bedroom for important things, like sleeping and working. The time has come to an end where we are fine working on our laptop in bed. The options are plentiful when it comes to looking for the ideal desk which hopefully will assist you in being even more productive.

MIXED METALS - The 1950's and 1970's are hot trends in fashion design collections right now, and it is no different in interiors. Mid-century Mod with brass, gold and metallic finishes are very popular right now. It's not unusual to find platinum, gold, copper, steel all mixed together.

FABRIC WALL ART - Fabric wall art is one of the trends that are on a roll. Ideal for covering a great amount of space on a budget. It's faster than painting and easy on the funds if you're still recovering from moving expenses. There are as many different looks as there are fabric patterns...so no matter your style there are a vast array of choices.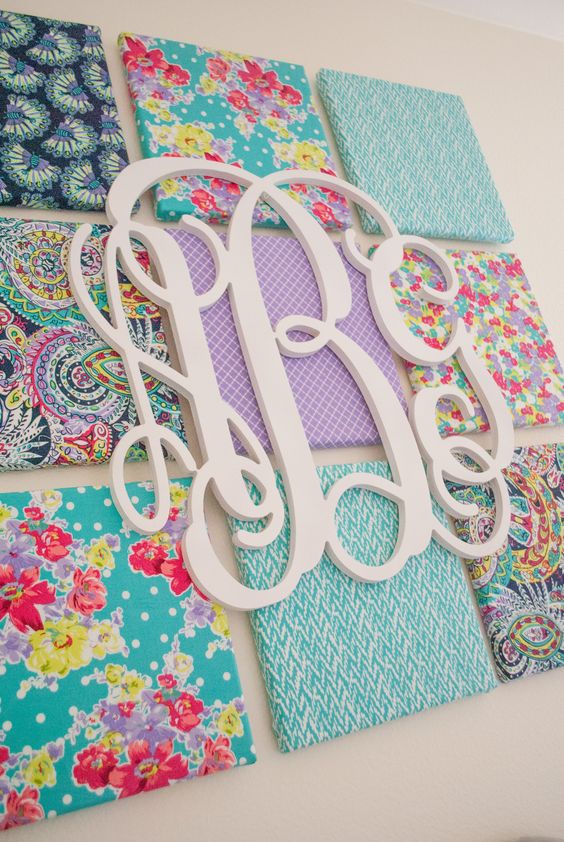 GRAPHIC TILES - Decorative backsplashes have been used for a long time, however graphic tiles are now making a big statement and go back to the mid-century, when tiles embraced color and pattern. This is a trend that may pass eventually, but most likely not anytime soon. It's best to find something you feel you can live with for a long time, as tiles are quite durable. Think of it as art. It will be investment that will compliment your walls for years to come. Retailers are finding consumers gravitating towards more geometric patterns that feature fluid movement. Cement and even wood are going to play a significant role in achieving this. Whether it is a backsplash, an intricately patterned floor or a countertop, fluid geometry is one of the hottest things this year.

SUSTAINABLE AND RECLAIMED MATERIALS - Recycling, repurposing, reinventing and reusing are all things that consumers are beginning to consider when they make purchases today. I'm hopeful this trend sticks around forever! It's pretty neat that designers are finding ways to minimize waste and turn old, worn materials into things of beauty. From the foam in our couches to the the foundations that prefab homes are laid on, Dwell president Michela Abrams noted that sustainability is at the heart of anything that is being manufactured today.

STATEMENT LIGHT FIXTURES AND MIRRORS - I'm not ashamed to admit that I have loathed medicine cabinets for a while now. I love walking into a bathroom that is framed by a statement mirror. Envision large wood-framed beauties, backlit modern marvels and ornate vintage gems that boost style in a bathroom. There's no denying how much this singular detail can add to an often overlooked space like the bathroom. Light fixtures often are used as pieces of art, so it's something to not feel guilty about splurging on. You can have the most simple space, but if you put an amazing light fixture in it, you automatically boost the room's atmosphere and presence.

OPEN AND AIRY - This has become the number 1 request these days. All you have to do is log-on to Pinterest and there are a ton of open floor plan models. Families today are often quite busy, and multitasking is the norm. Having clear views of what's going on in your home from anywhere in the house tends to make logical sense.

MINIMAL DESIGN - Tagging on to the open and airy floor plan, creating a space that's free of clutter and ornate decor means a space that's easier to focus in, easier to clean and easier to move through. This trend just that makes sense for positive living.

SUNROOMS - For many of us a sunroom is a top dream space. I often pin sunrooms to my Dream Home board. But even those of us who don't have the luxury of having or adding one are finding ways to carve out a special sun-drenched corner in our homes. For me, it's the small light filled area of my living room.

SOURCE ARTISAN GOODS - From tassels and basketry to macrame and crochet, weaving is in. To embrace this trend, lifestyle expert Justina Blakeney advises consumers to be inspired by local finds. LG Studio artistic advisor Nate Berkus encourages shoppers to buy locally made and globally crafted goods (consumers should not be afraid to mix vintage and artisanal items with mass produced goods.) Here's your opportunity to pair a Mongolian lambskin pouf and Moroccan rug next to your favorite Pottery Barn coffee table.